Croatia > Villas Dubrovnik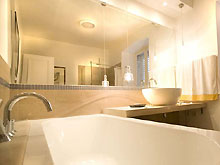 Dubrovnik Area Luxury Villa with pool (8-10)




• Villa: Villa is located 1 m from the sea and a private sandy beach in a
beautiful little tourist town in area of Dubrovnik, on the Peljesac peninsula.
This beautiful Mediterranean home built in the late 19th century. Through
the years, this ancient house was in property of the traditional captains
"di lungo corso", that spent they life traveling around the world but they were
always eager to return "to their peaceful harbor" that is this beautiful
Mediterranean stone house. The beauty of this house is witnessed by many
famous names that have spent longer or shorter periods of time in the
embrace of villa, some of them are the English King Edward and
Mrs. Simpson, Mr. Fizory Mclean, Croatian president Franjo Tudjman,
and many artists.
Facilities and activities
• The house consists of three floors that are ground floor, first floor and attic.
It is located on a large property with gardens, pool and courtyard. From the
front court yard a door leads to the ground floor of this beautiful villa where
right in front of you there is a spacious dining room with dining table, TV
lounge, located on the right side of dining area and saloon intended for daily
resting, located on the left side of dining area. The ground floor also has a
modern, fully equipped bathroom and a modern fully equipped kitchen which
has a separate exit to another court yard with a century-old dining table.
From ground floor area a stairs lead you to the first floor and introduce you
to a spacious central hall, perfect for socializing but also equipped with a
rich selection of foreign and home literature.
• On the first floor, there are 3 spacious double bed bedrooms. One of the
rooms is a master bedroom with a king-size bed and a separate modern
bathroom, second bedroom also has a large double bed, while the third
bedroom has two twin beds and a canopy bed. Each room offers a very
luxurious ambiance but also extraordinary views of the sea, of the
archipelago of islands that stretches on the horizon and of the island of
Korcula. On the third floor of the villa is a residence which extends over
the entire first floor and contains a large double bed, living area with sofa
and chairs and a modern bathroom.
• Villa is surrounded by green areas and filled with organically grown fruits
and vegetables and spacious gardens.
• Villa is fully air conditioned. The house has Sat TV, DVD, Internet access,
stove, oven, fridge /freezer, dishwasher, washer and dryer, microwave,
grill, mixer, feeder and cot available upon request, four outdoor terraces,
private pool, sitting, dining and garden furniture, beach chairs and beach
yard, deck, pebble beach in front of the house, a garden with Mediterranean
fruit and vegetables at your disposal, and parking space for each guest.
Price: 1 July - 1 September 828€
June - September
650€
Rest of year
on request
• According to offered menu: breakfast priced 10€ per person. According
to offered menu: a lunch or dinner priced 30€ per person. According to your
wishes hostess will get all desired groceries and will prepare meals
according to your wishes (the price of this service is defined in agreement
with you upon arrival)


more »