Hotel Makarska
Makarska
Hotel Makarska 3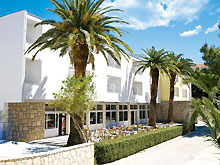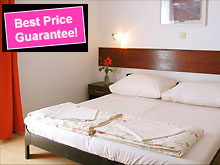 • Hotel is located close to the town beach and the promenade only 100
metres and confirm the guarantee for a carefree holiday arguments quality
accommodation and hospitality staff. In the heart of Makarska as well as the
beautiful seafront promenade, many additional sports and recreational
activities, interesting night life and cuisine of the city of Makarska.
Accommodation
• Hotel offers accommodations at your disposal 52 rooms with bathroom
and balcony. You can choose between the north and south oriented rooms.
Each room is pleasantly ambient and are equipped to high standards and
exudes modern practicality.
• Accommodation capacity of the 2+1 and 2+2, and are equipped with
wireless Internet connection, Sat TV with LCD screen, air conditioning and
private bath. Available service laundry and dry cleaning surcharge, and the
hotel parking lot for our guests free of charge.
• In our elegantly decorated restaurant with pension and "a la carte"
services, serving local specialties and international cuisine. Besides the
restaurant there is a cafe that offers a large selection of domestic and foreign
drinks, refreshing cocktails and hot and cold drinks.
Price:
9 -23 June /1 -15 September
31€
24 June -7 July /18 August -1 September
38€
8 -13 July /11 -18 August
45€
14 July - 11 August
55€
• The prices are per person per half-board
• Children under 3 years Gratis! (if they don´t use add bed, without meals)
• Children 3 to 12 years, discount: -30%
• 2 kids who share add bed, discount: -50%
• Free parking



Hotel Makarska 3