Hotel Makarska
Makarska
Luxury Hotel Makarska 1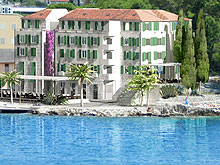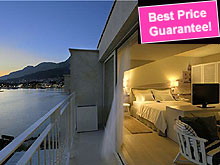 • 49 air-conditioned accommodation units with bath or shower, mini-bar,
Sat LCD TV, safe and high speed Internet connection. All rooms have a
a balcony and sea or mountain views (some have side views of the sea and
mountains). Hotel is situated directly on the waterfront
• Baby cots are available on request at a local charge
Facilities and activities
• 2 air conditioned restaurants offering table d'hote or a la carte menus with
outside dining terraces, pizzeria, restaurant bar, pool bar, TV room and
internet cafe, fitness room, sauna and massage, outdoor swimming pool
(10x5m), sun terrace, sun beds, boutique and souvenir shops, safe
underground car parking, games room, exchange office, tennis centre, sport
centre, water sports, tours and excursions.
7/1-5/5
22/9-21/12
5/5-26/5
15/9-22/9
26/5-9/6
1/9-15/9
9/6-7/7
25/8-1/9
7/7-25/8
1/2 (p)
31€
35,65€
47,15€
55,2€
73,6€
1/2 (b-p)
35,65€
39,1€
51,75€
59,8€
79,35€
1/2+1 (b-p)
35,65€
39,1€
51,75€
59,8€
79,35€
1/2 (s)
37,95€
41,4€
55,2€
63,25€
82,8€
1/2 (s-b)
42,55€
47,15€
60,95€
69€
87,4€
2/2 (s)
82,8€
89,7€
106,95€
120,75€
138€
p - park I b - balcony I s - sea
• The prices are per person per night
• Half-board +12,65€ per person, baby cot +11,5€ per day,
garage +(8-12,65€) per day
• Additional bed (2-12 years) -50% and (13 and more years) -30%
• Insurance: 1€
• Accommodation tax is not included


Hotel Makarska 1